Finance for as low as $69/month and $0 down. Learn more.
Community Spotlight: Maria Campbell
"My goal is to show both of my kids to love their bodies"
Our Tempo members help shape our community and make it what it is — a place where we can lift each other up, encourage one another, share advice, and oftentimes posts funny memes and photos of our pets.
As much as our members create a singularly special Tempo community, they are also so different in who they are and the stories that they have. In an effort to share more of these stories, we'll be regularly showcasing one of our members and the stories that they have to tell.



Meet Maria.

She'd never described herself as a "fit" person. She didn't go to the gym and wasn't even really into athleisure wear.
However, that changed when her eldest son, Eli, was born 3.5 years ago. Diagnosed with a genetic condition called spinal muscular atrophy.
"I knew I have to be strong to help him perform everyday things."
Her mentality went from, even if Eli is in a wheelchair and the wheelchair can't do things, Eli still can — even if she has to carry him.
Fitness not only empowered Maria to help Eli do more, but became an outlet for her mental health as well.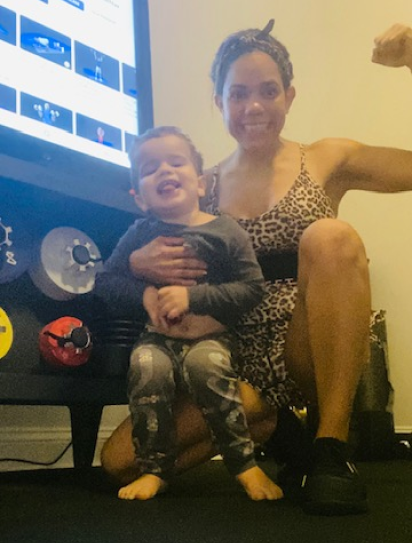 Knowing all of this, it should come as no surprise that Maria's fitness goals and her motivation are all about her family too.

"My fitness goal is to show both of my kiddos to love and respect their body and to be strong enough to continually help my kid on his road to walking independently."

In pursuit of that goal, Maria trains with her Tempo at least once a day, five days per week. So far, her favorite classes have been the 7 Sweaty Sins.
Her favorite exercise is burpees (we know, we can't believe it either!) and her least favorite are squats. While Maria couldn't choose who her favorite coach is, she did say she loves all of them (we couldn't agree more).
"No really, love them all, and what they bring to my life! Not only to my fitness life but also to my mental health."